Metal Roofing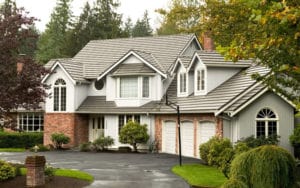 Residential Metal Roofing is a desirable substitute to traditional composition shingles. Along with its many advantages over conventional shingle roofing, metal roofing is now available in several styles and designer colors, allowing you to add beauty and value to your home.
A metal roofing system is much stronger and more durable than asphalt shingle roofing. Metal roofs are superior to asphalt shingle roofing in all types of weather conditions, including hail, sun exposure, and wind. Unlike shingles, metal roofing will not deteriorate due to sun exposure and can withstand wind speeds up to 140 MPH and is extremely hail resistant.
The average life of an asphalt shingle roof is 17 years and can require re-roofing every 10 to 20 years. But a metal roofing system offers unmatched durability, lasting 2 to 3 times longer.
Lighter colored metal roofing can reflect much of the sun's UV rays, which can help keep your house cooler and lower cooling costs. These roofs provide your home with maximum energy efficiency while increasing the exterior appearance of your home for added resale value and curb appeal.
Royal Home Improvement is proud to offer DECRA® Residential Metal Roofing. It offers the beauty and richness of cedar shake, while providing the durability and longevity of stone coated steel.
If the look and durability of a metal roofing system is for you, call the experts at Royal Home Improvement and we can help you sort through the many styles and options to find the perfect metal roof for your home.
Gutters
Improperly installed gutters, old gutters or no gutters at all can cause serious problems for your home.
Every gutter system from Royal Home Improvement is made of high-quality materials that are dependable even in heavy rainstorms. The gutters work to move water away from your home quickly and effectively. Water damage can be costly as it can affect your roof, siding, foundation, and landscaping. Our gutter systems are backed by comprehensive warranties.
A new gutter system can be installed in your home in very little time. We have a wide variety of color options to choose from to complement your home. These innovative rain and leaf removal systems are solidly constructed and easy to install, protecting your home from the elements with a durable quality you can trust.