Sliding Windows
Sliding windows have one fixed pane and one sliding pane. Unlike traditional windows, they do not work on a pulley system; instead they roll on a rail system. The interlocking meeting rail and cam lock action sashes provide additional security.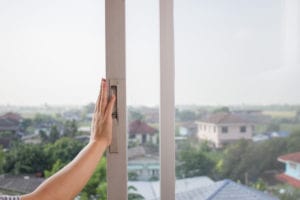 The sliding windows are made with heavy-walled PVC framing that acts as a natural insulator. The closed cell compression seal slopes at the window sill to resist air and water penetration. We also use a Fin-Seal weather stripping at the window sill to further reduce air infiltration. The rigid leg on the sill prevents "screen rattle" even on windy days.
All sliding windows from Royal Home Improvement are made with 3/4″ Insulating glass to provide optimum energy efficiency. The dual hollow at lift rail adds strength and insulation to improve efficiency. We use InnovativE® high-performance glass with Low-E coating specifically engineered for local requirements. The "warm edge" low conductance spacer resists energy flow through the edge of glass.