Awning Windows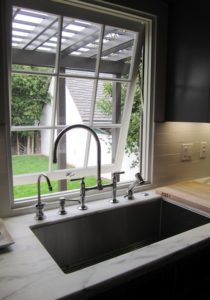 Awning windows are great for natural ventilation, beautiful views, and easy operation in harder to reach areas. Awning windows use a hand crank to open and close, which allows them to go in places like over the kitchen sink, countertop, large appliances or other hard to access places.
Unlike traditional windows, awning windows are hinged to the wall at the top of the window and open out. This makes them great for catching natural breezes, so you can naturally regulate the temperature of your home. Because of their construction, they also allow for larger panes of glass, so you can have a great view of the outdoors. Plus, with all of the colors, styles, and energy efficient options, you're sure to find the perfect window for your home.
Awning windows from Royal Home Improvement are reinforced for quality and strength. ThermoKing Windows are constructed from some of the best materials available and come in multiple attractive colors, grids and other glass options.