Casement Windows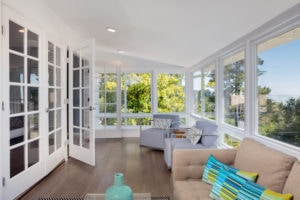 Casement windows open like a book on a hinge attached to the wall using a hand crank to open and close. The window sash opens completely, so windows can be cleaned easily from inside your home. All components are corrosion resistant, providing years of trouble-free performance.
The casement windows come with a multipoint locking system for utmost security There are three layers of weather stripping to assure effective barrier to air and water penetration. Top rated hardware system allows even the largest casement windows to be effortlessly and smoothly operated.
Casement windows from Royal Home Improvement have a narrow frame which allows for maximum exposed glass area. Royal uses a 3/4″ insulating glass to provide optimum energy efficiency. This InnovativE® high-performance glass utilizes Low-E coating specifically engineered for local requirements. The "Warm edge" low conductance spacer resists energy flow through the edge of glass.